Sale!
Hand turned acrylic marbled body fountain pen with iridium point Steel F Nib – Viveza Metro
1 in stock
Compare
Description
Viveza metro hand turned acrylic marbled barrel  fountain pen with stainless steel iridium point German made nib.
Viveza metro is made of premium acrylic barrel with brow, red white patterns , then some hand painting art goes to certain patterns on the pen body before the final sealing. Its all about the beautiful patterns you get on the pen body and the same patterns will not be repeated since the colors formation is different on these acrylic blanks. The artist puts a lot of effort in turning these pens to a collectible item.
Brand : Viveza
Model : metro
Colour:  Brow, Red, white ( acrylic + hand turning )
Capped  Length  : 148 mm
Without cap Length : 138 mm
Length posted: 168 mm.
Weight: 28 gms
Body material: Acrylic, Wood and metal
Cap Type: The cap is magnetic, closes with an enjoyable  click sound. Cap holds tight to the body, magnet is strong enough.
Nib Size & Material:  Stainless steel F point with iridium point nib (Germany) .
Ink Filler:  The pen is fitted with an online piston filler converter, You can use universal ink cartridges as well. But this cannot be used as an Eyedropper pen since there are metal parts inside the barrel.
Made in : Germany.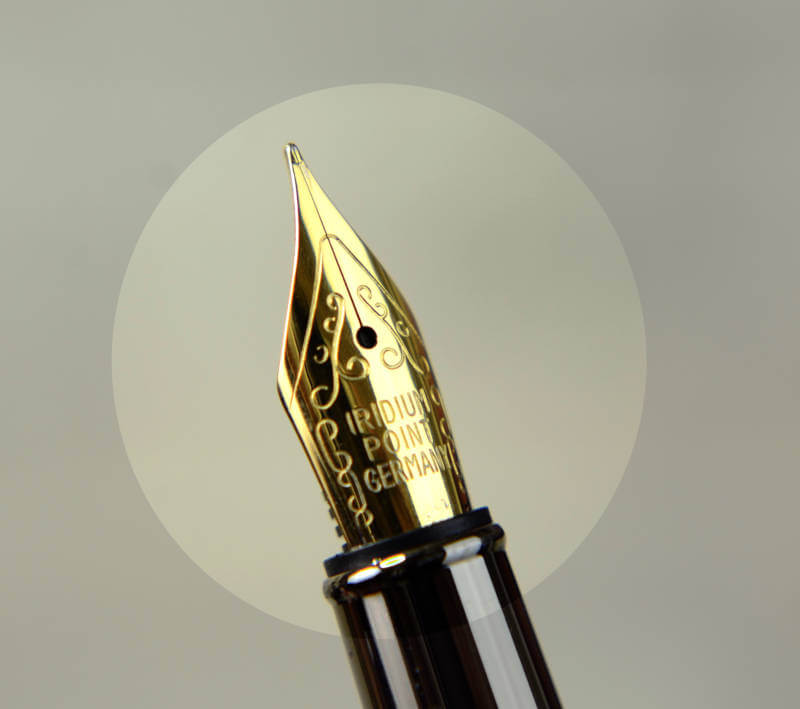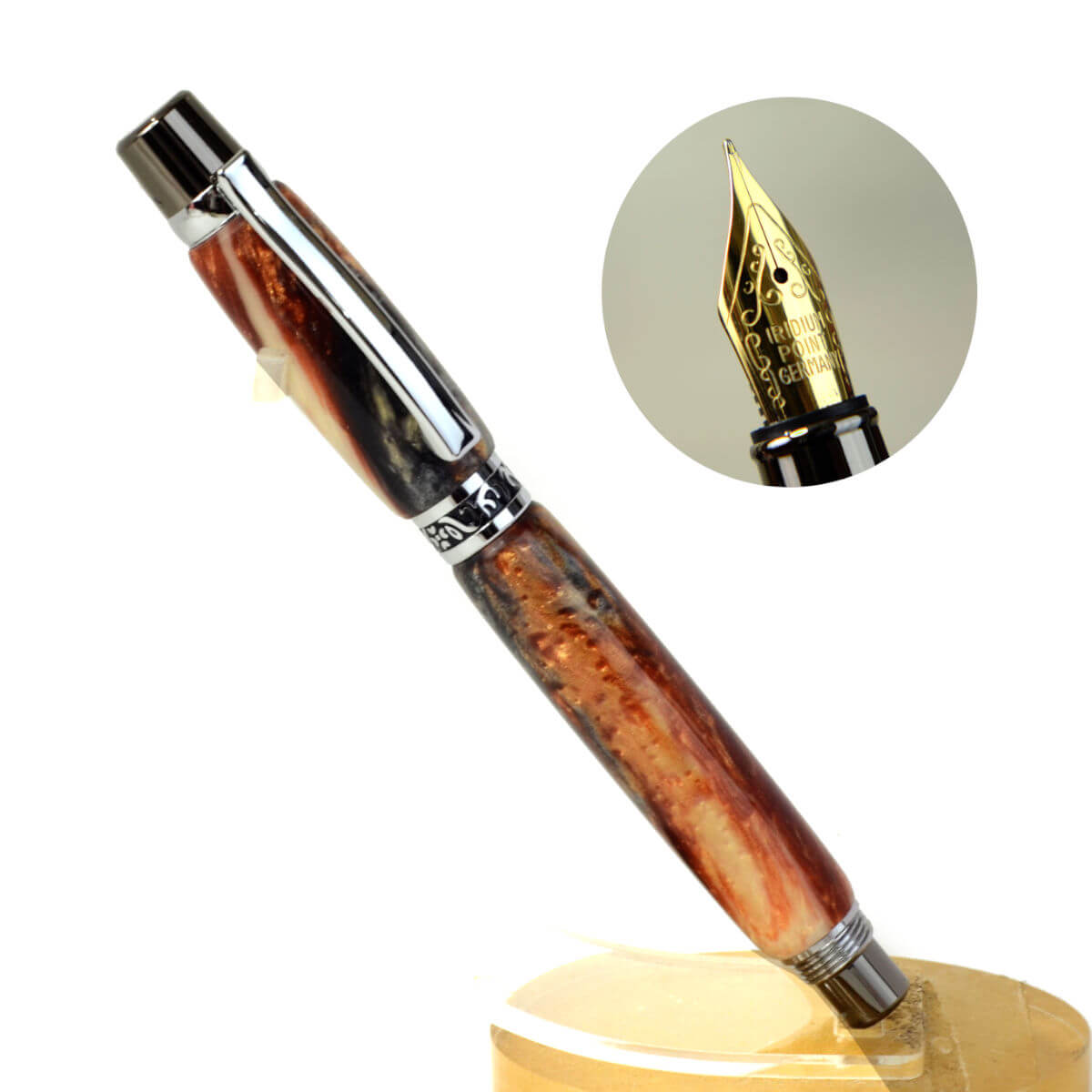 viveza series of fountain pens are unique and hand turned. viveza metro is made from premium acrylic blanks with some touch of artistic painting under the final acrylic filling. These are hand turned fountain pens, created by a veteran artist From Germany who mastered his art on fountain pens, knives & swords, and ornaments etc..
Who made this pen ?
Mr. Martin is a master craft when it comes to turning art pieces from rare wood, underwater precious stones, resin, acrylic, and occasionally from precious metals like silver or gold. Martin owns a medium size farm in the outskirts of Heidelberg ( yes, that's where LAMY pens are made), and he turns some excellent art pieces including these Viveza fountain pens at his farm.
Story behind Viveza hand turned pens ?
It all happened during a recent antique show we attended in Switzerland.  Martin was exhibiting a mix of his art work which includes jewelleries, cigar boxes, premium pocket knives, and a few beautiful (and awesome) fountain pens that he created from wood and resin. We realized that these pens are cost effective and unique collection items, and asked Martin if he could create some pens for us, then Viveza series fountain pens were born.
Viveza is not a brand name you can find by online search !,  when we asked Mr. Martin to name these fountain pens , he mentioned these pens were named  'viveza'  by him. So we decided to keep these pens the same name.  Otherwise, these are unbranded, hand turned, unique fountain pens.
What is special about Viveza Metro?
Viveza metro is made of premium grade acrylic material with some unique red + brown + white marbled pattern, then some hand painting art work  goes to certain patterns on the acrylic body. It's all about the beautiful patterns you get on the pen body and the same patterns will not be repeated since the acrylic blank making always transforms to unique different patterns. Martin puts a lot of effort in turning these pens to a collectible item.
* Price  is for a single unit of  brand new Viveza metro hand turned  acrylic barrel  fountain pen with stainless steel iridium point fine nib  * 
Please check all the photographs. there is a clear detailed closeup to clarify any of your doubts. . buy this pen only after clarifying all your doubts.  Since this pen is in brand new condition, supplied in unused condition,  no refund or return or exchange possible for this pen. the sale will be final.
Packing, Shipping & Delivery
Packing :  Three layer packing is free. Pen will be packed the gift pen box, wrapped with a bubble roll, and  covered with another layer foam , and again repacked with cartons.
Shipping partners : currently we use only India speed post as our preferred shipping partner in India.    escalated Air shipping (Bluedart or Fedex)  to selected cities available on additional payment.
Delivery time :  Product will be shipped from Southern India, Kerala.  There will be considerable delay in delivering items to far remote locations from Kerala. there will be added delivery delay to remote locations like Himachal Pradesh, Assam, Uttarakhand, Mizoram.
Antikcart sells exclusive vintage and new-old-stock writing instruments from well known brands like pelikan, sheaffer, parker, waterman, cross, caran d'ache, pilot, Mabie todd, hero, wingsung, guider, airmail, camlin, sailor etc, with affordable prices and free shipping.  Feel free to check our list of writing instruments Here. For 24 hours support on whatsapp +919995616500.