Sale!
Vintage Indian fountain pen – Mebsons Crown black barrel with ambitious two tone F nib – NOS
Vintage mebsons crown black barrel  fountain pen with gold plated F nib – NOS
Out of stock
Description
Vintage  Mebsons crown 100% Make in India fountain pen with matte black barrel and two tone ambitious fine nib. The fountain pen is in perfect unused working NOS condition. memorabilia of a brave attempt!
vintage Mebsons crown black barrel converter fountain pen Specifications:
Brand : Mebsons
Model :  Crown
Colour:  Matte black
Capped Length  : 135 mm
Length Without cap: 120 mm
Length posted: 155 mm.
Weight: 18 gms
Body material: Metal
Cap Type: Pull cap
Nib Size & Material: F size ambitious two tone nib and  golden  colour clip.
Ink Filler:  Ink converter filling
Made in :  India
NOS condition, unused vintage mebsons crown black matte coated barrel fountain pen with two tone plated ambitious F nib  in excellent working condition. pen will be shipped only after detailed testing. We will ink the pen to make sure its working, but will clean and dry the pen before we ship.
Please check all the photographs. there are clear detailed closeup to clarify any of your doubts. No refund or exchange available for this item. buy this pen only after clarifying all your doubts.
* Price  is for a  single unit of  vintage mebsons crown black matte coated barrel fountain pen with two tone F nib  +  secure pen packing + shipping.
Few facts about 'Mebsons'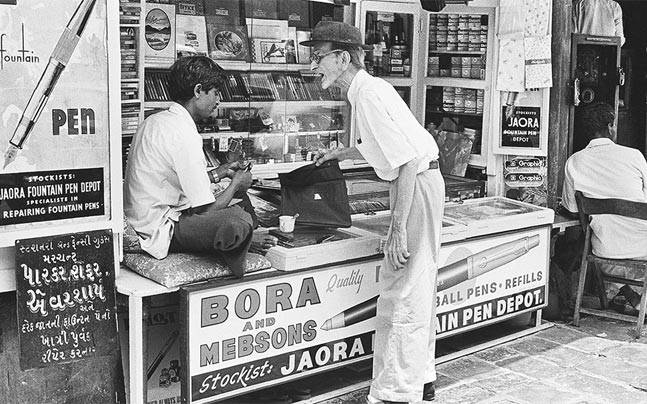 Mebsons was un upcoming pen brand in 80s from India. During the Initial days mebsons were making ballpoint pens, but later they geared up to manufacture premium fountain pens for the international market, using pure 'Make in India' raw materials and fittings. The result was some interesting, good quality fountain pens.
Mebsons brand was owned and operated by a team of three businessmen from Mumbai, one of them is a Bohra Muslim belongs to khorakiwala family, and another one was a very famous and influential Parsi vintage/art collector. Mebsons marketed their pens with brand names of Mebsons, Alisons, Persia and corvina.
during 1980-90s, china made fountain pens almost invaded pen shops worldwide, and mebsons found it almost impossible to run show successfully and compete with pen brands from china. Late 1990s, mebsons closed its doors forever, leaving those limited quantity premium fountain pens stuck in the distribution channel.
these pens are almost the last few units left in India, in New-old-stock working conditions.
Interestingly enough, mebsons used only genuine Indian made nibs with premium quality (ambitious), and some of their pens have lacquer coating, which is quite unique and seen only with Japanese made premium pens during 80s!
Antikcart's Quick review of Mebsons : looking at the quality of making, fit n finish, nibs, ebonite feeds, lacquer coating (not all pens), full metal or metal lacquer combination barrels, exclusive clips and trim, quantity of gold coating and finial & crown assembly, we can see that mebsons were all set to be a premium quality fountain pen maker from India if they survived the china impact. Sad to see such a great pen maker disappeared. We have traced mebsons fountain pens sold in Iran, Turkey, Greece etc, for some good money!, but none in India so far.
Note : Mebsons is now a multi-million $ company, into real estate and hospitality and facility management, etc.. the old photograph we have published here,  is the only reference we could find when searched for MEBSONS pens!
## Shipping & Delivery ##
Packing :  Three layer packing is free. Pen will be packed in a protection tube, covered with a layer foam , and again repacked with cartons.
Shipping partners:  We can ONLY use India speed post service.  Other express companies may deliver quicker and better to your place, but it is quite difficult for us to ship from our location using those express companies like bluedart or FedEx.   If you have any problem in dealing with India's post at your location,  please contact us before you place an order.
Delivery time: The product will be shipped from Southern India, Kerala.  There will be considerable delay in delivering items to far remote locations from Kerala. there will be an added delivery delay to remote locations like Himachal Pradesh, Assam, Uttarakhand, Mizoram.
Antikcart sells exclusive vintage and new-old-stock writing instruments from well known brands with affordable prices.  Feel free to check our list of writing instruments Here. For 24 hours support on whatsapp +919995616500.