Sale!
Vintage conway stewart 75 lever filler fountain pen – 14K gold F nib – Clean
₹18,500.00
Vintage conway stewart 15 lever filler fountain pen with blue  barrel and 14CT  gold F nib.
Out of stock
SKU:

63088
Categories: Collectibles, Converter Pens, Fountain Pens, Gold Nib Pens, Products on Discount Offer, Vintage Pens, Vintage Pens and pencils
Tags: 14Karat solid gold nib fountain pen, Antique fountain pens in india, authentic fountain pens india, buy conway stewart fountain pens in India, conway stewart gold nib fountain pen, conway stewart lever filler fountain pen, fountain pens, full metal fountain pens, solid gold nib pens, Vintage fountain pens, vintage pens in india, vintage swan fountain pens
Compare
Description
Conway stewart 75 lever filler marbled barrel fountain pen with 14K solid gold F nib.  In working condition. Made by conway England.  Circa 1960. in pre-owned clean working condition,  no damage.  
conway stewart 75 lever filler blue marbled fountain pen with 14K gold F nib  Specifications:
Brand : conwat stewart
Model : 75
Colour: Blue marbled
Capped Length  : 130 mm
Without cap Length : 118 mm
Posted Length : 160 mm.
Weight: 22 g
Body material: Resin barrel &  steel cap  trim
Cap Type: Screw cap
Nib Size & Material:   14Karat gold  flex Fine  nib.  Nib is writing very well, normal writing works around Fine without any major scratching.
Ink Filler:  Lever filler ink  filling  (It is working)
Made in :  England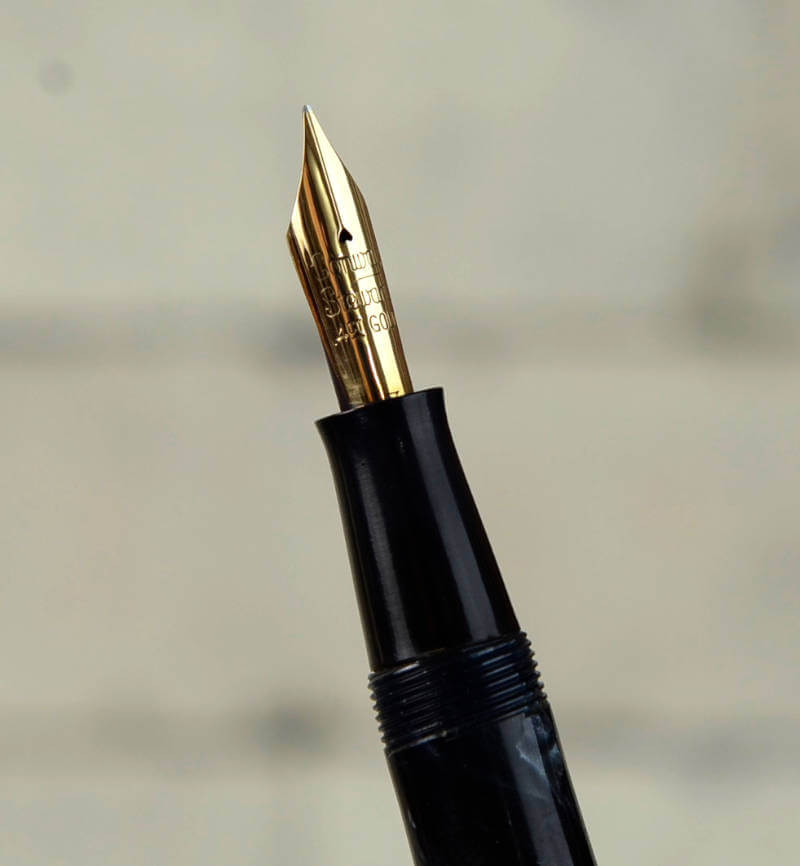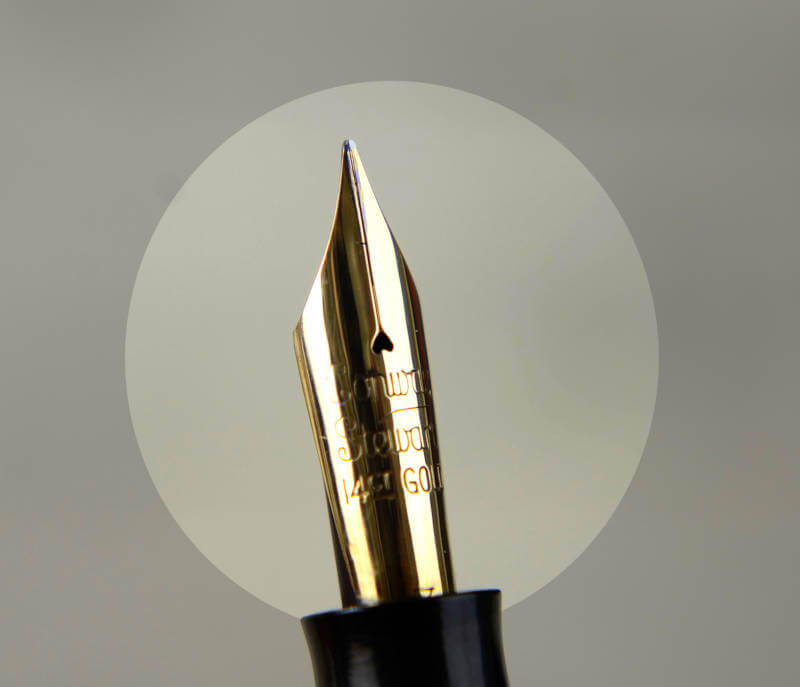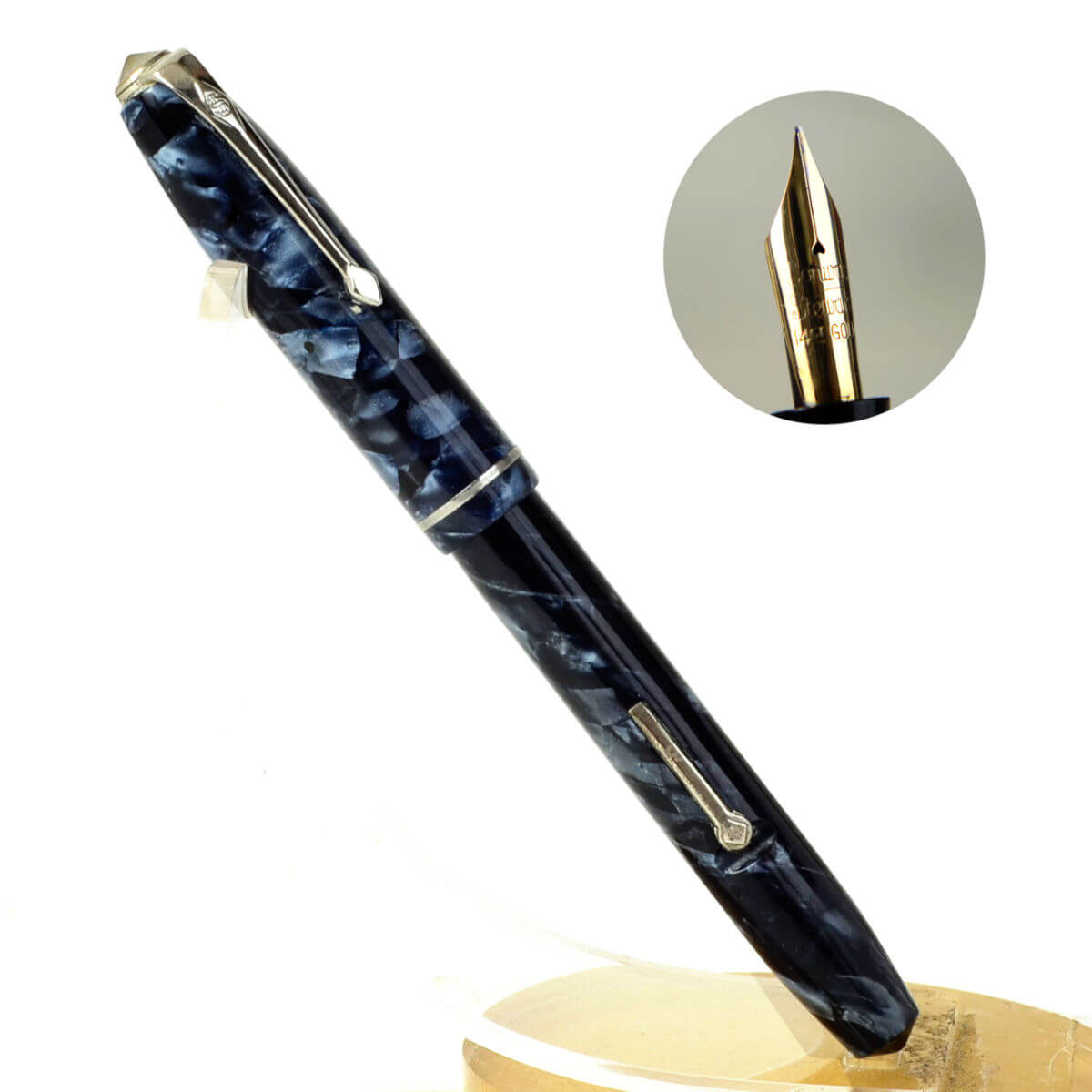 Condition of the pen :
Pre-owned and clean working condition. with some usage tear and wear of previous owner(s). no major damage to pen , writes fine with very limited feed-back. No patches or fixes done by antikcart. Ink not leaking through sac and feed, we have tested the pen with light taps on tail end while the nib is face down, ink does not spill. No teeth or chew marks on barrel. No Hairline marks are there on barrel from usage. Overall, pen is in clean look and perfect working.
Barrel to nib section fitting :- The nib section is pull fit to barrel, and it fits perfectly.
Sac/Converter to nib section fitting :- Snug fit, mount point is not loose , no ink leaking,  the ink sac is professionally sealed.
Scratches :- No deep, projected scratches.  surprisingly the pen has no major usage wear for its age
Bents :- No visible bent on barrel or cap
Dents :- No noticeable dent on either barrel or cap.
Crack :- No crack on body or cap. Further on loop inspection, we did not find any crack filling by the previous owner(s).
Barrel and Cap Colour :- 90% clear, no fading seen.
Cap :- Snug fit. Checked for grip capacity while clipped in shirt pocket.
Nib :- The nib is 14K solid gold fine point nib. is in place.
Cap Posting :- Yes, well balanced while posted, nib dont miss while writing.
Restoration details
We have replaced the old latex ink sac with a new, original pensac latex ink sac. Otherwise the entire pen is original as it is manufactured.  
Result of our inspection and testing:
The pen has no damage, including the nib and lever filling. looks like the pen has some wear,  but no signs of damages or any fixes.  please refer to pictures published. the barrel and cap is in good condition, no major damages. the brass alloy gold trim including cap well maintained, the plating 90% still in place.  this is a clean maintained pen. Ink filling  is in good condition, and it draws good amount of ink. No leakage found with lever filler. nib section has good grip on the cap, threaded capping  is not loose, its a firm fit on nib section. The pen barrel fits good to the nib section. Screw threads are in good condition. We wrote " the quick brown fox…" sentence multiple times and the nib guided us very smooth without any scratches or stops. We draw many lines towards all 4 directions and tried connected 'S' patterns. Everything is working very well for us. We have cleaned this pen with a premium pen flush.
* Price is for a single, used conway stewart 75 blue marbled barrel lever filler fountain pen with inlaid 14K solid gold F point nib, in clean working condition + 

Secure packing with bubble wraps and paper box * 
Important: Please note that you are buying an old fountain pen, THIS IS NOT A BRAND NEW PEN, it is  pre-owned and used by many owners (probably), the instrument is in mint working condition. comes with original box and documents, but no invoice provided with this pen. the pen has  tiny usage marks, please refer to our result above. Pictures published here are part of the description and the offer is for the exact same item displayed above. You will not be getting any add-ons or freebies that you may receive when purchasing a brand new modern pen . Please buy this pen only after you cross-check photographs and read description once more. You decision to buy this product is an agreement to the condition we have published with the help of pictures and description.
Packing, Shipping & Delivery
Packing : Three layer packing is free. Pen will be packed in a very secure inner box, wrapped with a bubble/paper cushion roll, and covered with another layer foam , and again repacked with an outer carton.
Shipping partners : For Indian customers, we use speed post service of India post. Please note that we will declare the content as 'used pen' and the same will be displayed on the package.
Delivery time : Product will be shipped from Southern India, Kerala. Though speed post maintains consistent quick delivery, There will be considerable delay in delivering items to far remote locations from Kerala. there will be added delivery delay to remote locations like Himachal Pradesh, Assam, Uttarakhand, Mizoram.
Antikcart sells exclusive vintage and new-old-stock writing instruments from well known brands like pelikan, sheaffer, parker, waterman, cross, caran d'ache, pilot, Mabie todd, hero, wingsung, guider, airmail, camlin, sailor etc, with affordable prices and free shipping. Feel free to check our list of writing instruments Here.
For support on whatsapp +919995616500 (only 11 am to 7 pm india standard time – monday to Friday ). If you dont preffer to share your whatsapp number, please contact directly on email : [email protected]
Related products
Sale!

₹

2,500.00
Only 1 left in stock